Eikos Partners: ED&F Man Proposal
A Project Proposal for Contract Work
Eikos Partners is a financial tech consultancy that helps buy-side and sell-side institutions to solve complex technology and operational challenges.
activities
Workflows
Wireframing
Project goal
Eikos Partners is one of the vendor bids for a potential client ED&F Man. ED&F Man is an agricultural commodities merchant, trading sugar, coffee, molasses, grains, pulses and animal feed, and providing access to capital markets. My goal as an Eikos Partners employee is to create initial wireframes for our bid to be selected by ED&F Man.
Project Purpose and Requirements
purpose
ED&F Man wants a custom auction-matching interface for interest rate swaps known as Swap Connect ("SC"). "SC sessions allow traders to engage with each other without revealing order size or direction in a particular instrument for a set period of time. With the instrument mid-price set at the session onset by the Host, trader bids and offers (entered at the mid- price) are displayed on screen as "firm interest" only. Order direction ("buyer" or "seller") is not shown.
business requirements
The User Interface includes three modules: Administrator, Session Match and Manual Ticket entry.
Administrator shall have the following modules:

UI Admin
UI Session Manager

Session Match:

Main Display Page (Trader & Broker)
Trade Blotter (Trader & Broker)

Manual Ticket:

Manual Order Ticket Entry
Master Blotter
With help from CTO, we drafted together 2 iterations of wireframes and flow charts for the proposal. The wireframes are designed for 2 main users, administrators and traders, and created "happy path" workflows for their main usages.
The first round of screens are designed for quick readability and action. Traders want to see what swaps to make on a single trading day, and have bid options that they can choose from before making a swap. Administrators are given the same UI layout but with more privileges. They can add, edit, and delete users, and other admin tasks.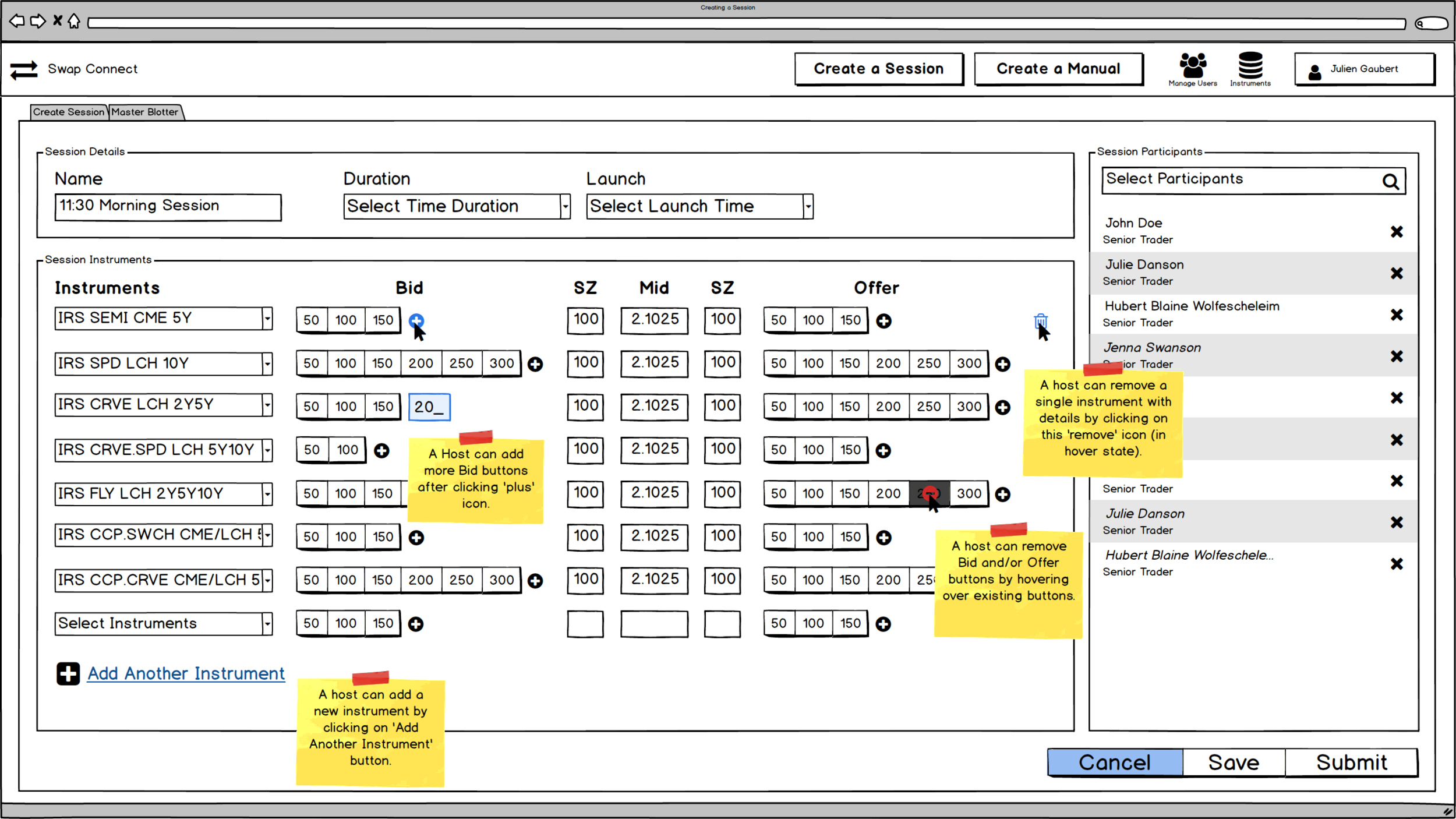 After feedback from CTO, I adjusted spacing and wording as real estate is vital in a trading desk. Traders need to see as much information as they can to make informed trading decisions, so without overwhelming them with too many details, only essential information such as tickers, positions, trade type, bidding options, and more are displayed.
Final Thoughts
Not all hedge funds are the same, and not all portfolio managers and traders have same problems and needs. With each new project proposal that comes in like ED&F Man, I have to put on my learning cap as the finance world is so complexly vast. With the help of CTO as a proxy for traders, I was able to understand the type of user and their needs, and later on wireframe UI designs that can optimize trading swaps.
At the moment, we are awaiting for good news from ED&F Man.